Diabetes researchers receive funding to investigate better treatments
Four University of Melbourne researchers have received funding through the $3.6 million 2017 Diabetes Australia Research Program for projects investigating better treatment options for the condition and its health complications.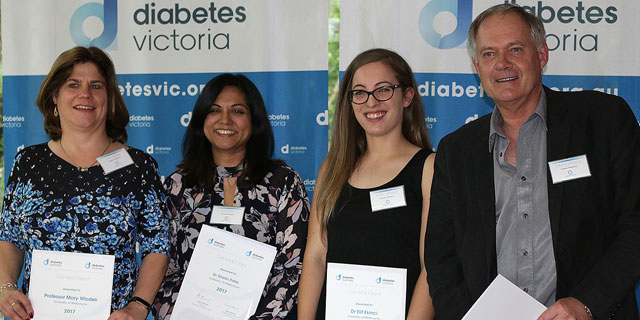 Professor Mary Vlodek, Dr Sheila Patel, Mariam Hachem on behalf of Dr Elif Ekinci and Professor Anthony Verberne
received funding for their research into diabetes treatment and management.
Dr Elif Ekinci, Director of Diabetes at Austin Health, received funding for her project to develop accurate and practical methods to detect changes in renal function in its earlier stages to prevent the development of irreversible chronic kidney disease.

Dr Sheila Patel, also based at the Austin Hospital, will use the funding to look into DNA changes in people with type 2 diabetes with the aim of identifying high-risk individuals much earlier so that treatments can be initiated to prevent heart complications.

Associate Professor Anthony Verberne will research why people with type 1 diabetes do no secrete the hormone glucagon – vital to restoring normal blood glucose levels – during a hypoglycaemic episode.
Professor Mary Vlodek will use her funding to investigate how endurance exercise in growth-restricted males during juvenile life could prevent the transmission of diabetes to their children.
Diabetes Australia is the national body for people affected by all types of diabetes and those at risk. The Diabetes Australia Research Program has invested $26 million in 388 diabetes research projects across Australia over the past nine years. This year, Diabetes Victoria contributed $1.3 million to the $3.6 million Diabetes Australia Research Program funding pool, directly supporting 17 Victorian researchers, including those from the University of Melbourne.