Managing Depression and Anxiety in People with Long-Term Conditions: The UK Context
Seminar/Forum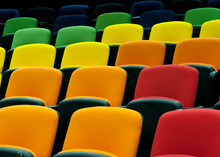 Seminar Room
General Practice and Melbourne School of Health Sciences
200 Berkeley Street
Map
Dr Amy Blakemore presents the findings of the study Choosing Health Options in Chronic Care Emergencies (CHOICE). CHOICE aimed to examine the relationship between psychological morbidity and use of unscheduled care in people with long-term conditions. Amy will also present a tailored psychosocial intervention which aimed to reduce the use of unscheduled care as well as a selection of studies focussed on developing health coaching and self-management interventions for people with comorbid long-term conditions and depression and anxiety.
This is a free seminar and members of the public welcome to attend.
Presenter
Dr Amy Blakemore

Amy is a Lecturer in Mental Health and a health services researcher in the Division of Nursing, Midwifery and Social Work, University of Manchester. Amy's first degree was in Psychology, following which she trained as a Primary care Graduate Mental Health Worker (GMHW) – a precursor to the current Improving Access to Psychological Therapies (IAPT) initiative in the UK. After a period working as a primary care GMHW Amy pursued a PhD and has since worked as a Lecturer and researcher. She continues to be involved in IAPT through delivering training to lowintensity psychological therapists. Amy's academic interest is in the development of interventions to treat anxiety and depression, particularly within the context of longterm physical health conditions. She has worked across several large cohort studies, as well as RCTs of interventions to improve patient selfmanagement and low intensity mental health interventions for people with multimorbidity.