The Maze Phase Podcast: Helping Teens
The Maze Phase is a new podcast from the Department of General Practice for primary health professionals working with teens, navigating life and the healthcare system.
In each episode, GP and academic, Dr Bianca Forrester, has a chat with experts in the field of adolescent health and social care. Together, they bring tips from clinical practice and research, and discuss best-practice approaches to common and complex problems presenting to primary care.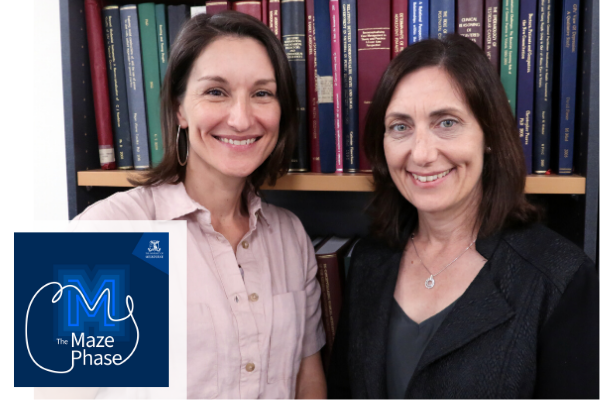 "The major burden of disease in young people is mental health problems and parents, school staff and young people themselves are often unsure of where to go and how to reach out for help, support and assistance," Bianca says.
She says GPs and practice nurses may be a first port of call for many families and teens and are, in general a trusted source of information, support and referral advice.
"However, adolescents face barriers to accessing healthcare and when they do present to services, they might lack the health literacy or confidence to ask for the help and support they need.
"This puts the onus on services and primary care providers to ensure that they are providing accessible, acceptable, appropriate and high quality services that teens need but may not necessarily demand."
This podcast is aimed at GPs and nurses working in primary care to provide the basic and refresher skills in how to talk to teens, how to understand mental health presentations and how to re-orient healthcare services so as to better support the needs of this age group. It aims to increase confidence in recognising and managing common mental health problems in school aged teens and to build skills in how to explain these issues to the young people and their families and /or carers.
Why now?
While the pandemic has raised issues for many, the impact upon teens is something we are all mindful of. While we know they are physically amongst our most resilient members of the community, their coping and support structures are still developing putting them at higher risk of distress and poor coping at this time. They do not access formal supports as readily as other age groups and social distancing has will have left many feeling isolated from friends and peer supports.
Many primary care providers will be concerned that their teen patients might be at risk of mental health problems at this time and might be wondering how to effectively reach out to this age group.
While this series was recorded before the bushfires and the pandemic, the assessment and management principles still apply and we will continue to add to this content over time.
Listen while you are walking, driving or gardening- brush up, refresher or for early careers GPs/registrars.
Parents wishing to better understand mental health problems and how the health care system can help will also find these podcasts accessible.
For more information, links and resources for each episode, visit the Department's website.
Episode 1 - Youth Friendly Heath Care: How can the GP Help?
Episode 2 – Anxiety in teens
Episode 3- Depression in Teens
Episode 4 – The Age of Adolescence
Episode 5 – Disruptive behaviour in teens
Episode 6- Understanding self-harm and suicidal behaviours
We would like feedback and are interested in your ideas for future episodes. Contact: gp-enquiries@unimelb.edu.au. Subject line "The Maze Phase"