COVID-19 Research in progress
Respiratory clinic evaluation – General Practice
The Department of General Practice's Data Driven Quality Improvement team has just completed the first phase of its evaluation of the Altona North Respiratory Clinic.
The aim of the project is to evaluate the safety and efficacy of the Altona North Respiratory Clinic, which operates in parallel with a drive-through testing clinic (DDTC). The team will also be exploring patient and staff experience of the clinic as well as exploring electronic medical record entries made by clinical scribes. Occupational health, mental health and infection control will be the key focus of the study.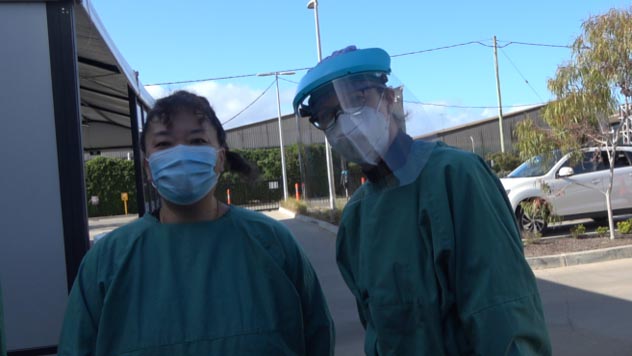 The clinical leads are Professor Mukesh Haikerwal and Dr Karyn Alexander (pictured, with Dr Ruby Biezen).
Academic Lead Professor Jo-Anne Manski-Nankervis says the team has submitted a report on the first phase to Government and a response to the RACGP on updating advise for implementation of respiratory clinics in general practice. They have also submitted a publication on the need for better PPE and support in general practice.
School Outbreak Analysis – Paediatrics
Professor Fiona Russell from the Department of Paediatrics and the Murdoch Children's Research Institute (MCRI), along with Dr Kathleen Ryan from MCRI and Dr Kathryn Snow from the Melbourne School of Population and Global Health are leading the analysis of the Victorian Department of Health and Human Services (DHHS) COVID-19 school outbreak data. They'll be making recommendations on school-based surveillance and COVID-19 mitigation measures. The team's Advisory Committee comprises representatives from DHHS and the Department of Education and Training, and Professor Sharon Goldfeld, Professor Kim Mulholland and Associate Professor Margie Danchin from the Department of Paediatrics and MCRI. There are eight University of Melbourne MD students employed to assist in preparing the data for analysis. Don't miss their seminar this Friday (details in Events).
Safe Voices Survey – General Practice/ MAEVe
Are you afraid of your partner? Do you feel unsafe at home? The Melbourne Research Alliance to End Violence against women and their children (MAEVe) team, based at The University of Melbourne, is conducting an anonymous survey of women's experiences of domestic violence and abuse during COVID19.
They would like to promote the survey to women who have lived experience of family violence. It is a National survey and we want to capture the lived experience of as many women as we can. The survey is confidential and take about five minutes to complete. The University of Melbourne and Latrobe University have ethics approval to do this work.