Dr Celine Gubser – Returning to Switzerland after adventures in science Down Under
Soon to return to Switzerland, Dr Celine Gubser from the Department of Infectious Diseases shares the highlights of her time in Australia.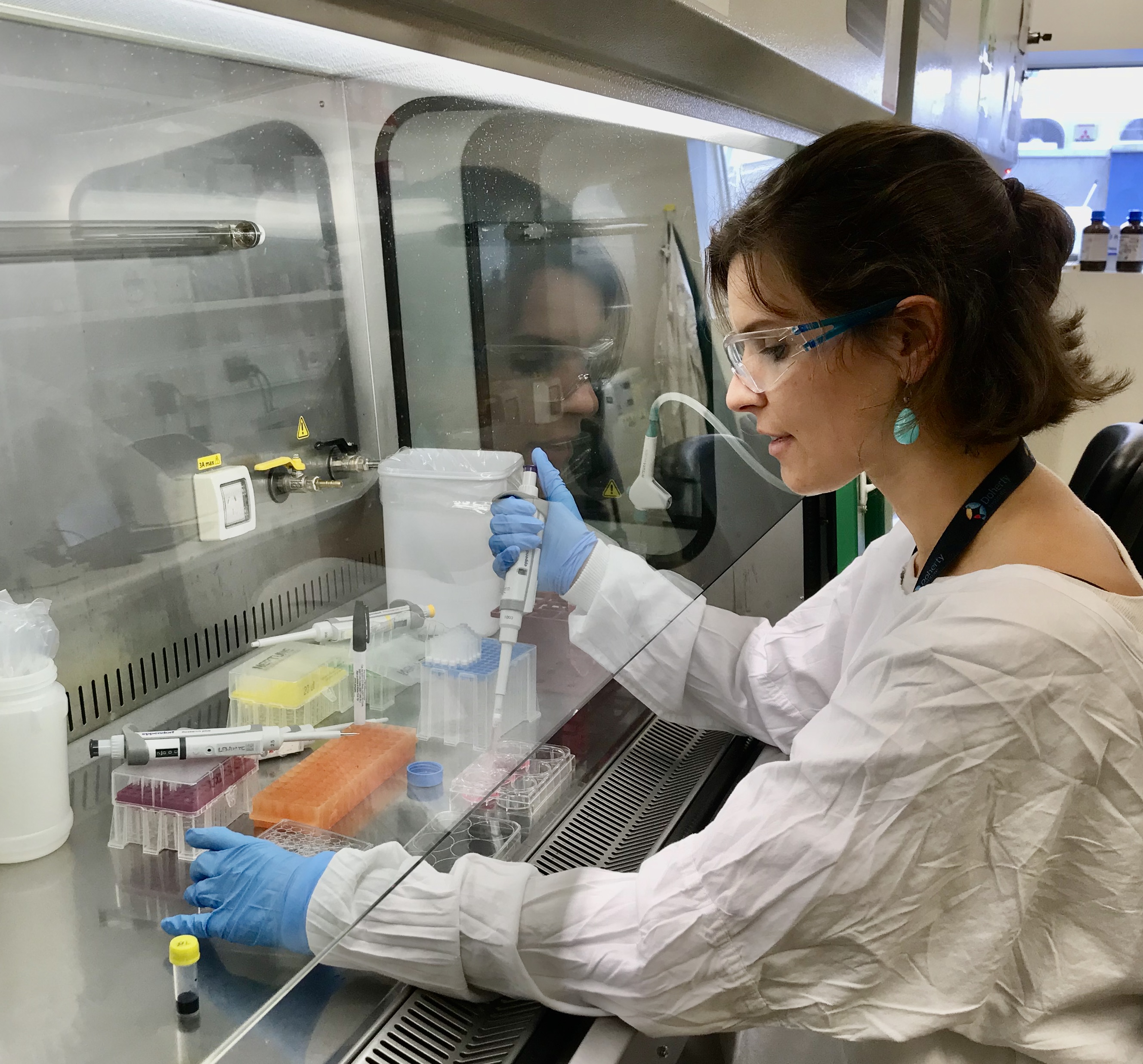 Dr Celine Gubser in the Lewin lab.
Please tell us about your research and how you came to work in Sharon Lewin's lab?
I'm a physician with a PhD in basic T cell mouse immunology. At the time both Patrick (my husband, also a clinician-scientist) and I were residents working long hours in the hospital and with a two-year-old and a six-month-old baby at home. Our lives were chaotic. I longed for a change and a peaceful, calm working environment and decided that dermatology would be the way to go. To start this new endeavour, I thought about combining my scientific immunology background with translational dermatology research would form the perfect basis to pursue a postdoc abroad. Patrick knew Melbourne from his study times and did not have a hard time convincing me that this was the place we should go to. But finding a host lab that was enthusiastic about my translational immuno-dermatology project proved difficult. However, I kept reaching out to Melbourne's dermatologists and through some fortunate circumstances my CV was passed on to Sharon Lewin. She sent me an email saying, "Hi, I'm looking for a postdoc with an immunology background. Are you interested? I don't do dermatology research though - we do HIV-cure work."
Since joining Sharon's lab in 2018, my main focus has been on boosting exhausted immune cells to better tackle the HIV virus that remains dormant in the body and is the main barrier to a cure in people living with HIV on antiretroviral therapy (ART). We are currently wrapping up two of our projects, which I am very excited about. Both projects look at the potential use of immunotherapy in the context of HIV infection.
Immunotherapy is a treatment used in cancer that has led to cures for some cancers and improved patient survival. We have identified certain immune-modulatory effects these treatments have on HIV-specific immune cells and we are keen to understand if they could be used as a therapeutic approach to target HIV persistence on ART in the future.
What has it been like living and working in Melbourne/Australia?
Living and working in Melbourne has been a unique and amazing experience for our whole family. When we came to Melbourne in 2018 the vibe of a big city with all its possibilities and opportunities was captivating and we instantly fell in love with it. We were lucky and found a perfect little Victorian two-bedroom house for rent only 15 minutes from the Doherty Institute. We could ride our bikes to work every day, mostly through parks and on bike trails. We would drop the boys at the university day-care on Queensberry Street, then have a flat white and a dirty chai (never heard of this before I came to Melbourne) at the Haymarket café, quickly debrief from the hectic morning and then head into the lab and do science, me on Level 4, Patrick on Level 6.
Are there differences in the science?
We noticed people here are very insistent when it comes to Standard Operating Procedures, safety, rules, and training. In Switzerland people just expect you to know and do the right thing and while this sounds very hazardous and irresponsible, you do learn by making mistakes. Luckily most of the time nothing serious happens. But you get an understanding of why not to do something.
Did you travel? What was a highlight?
Yes, we tried to see as much as possible of Victoria on weekends and made it to the Murray River, the Grampians, Dandenong Ranges, Healesville, Thornton and Phillip Island. We love the beach and have spent wonderful days with our friends in Torquay, Anglesea and on the Great Ocean Road. We were very lucky and amongst the few people in Victoria who got a summer holiday in July 2021. We made it to Cairns just before the 5th lockdown was announced and even prolonged our stay there to "sit out" no. 5. We felt very smart but of course lockdown no. 6 was just around the corner and we did sit through that one. The Great Barrier Reef and the Daintree Forest were highlights, and we felt very privileged to show these World Heritage areas to our children.
Major impressions?
The Melbournians. I am seriously impressed with how resilient, easy-going, open, friendly, relaxed and creative people are here! I have never received a rude or stressed reply (except when in the car), interactions are always positive, and there is a willingness to make your vis-à-vis feel comfortable – and it works. Both me and Patrick can feel what we call "the Melburnian ethos", and we want to try hard and take as much of it as possible with us when we go back home.
What was it like since the COVID-19 pandemic hit 2021/2022?
Our third son Finn was born in January 2020. And our two-bedroom house was rather tight during the lockdowns. It was hard because sleeping was (still is) a huge issue and with only two bedrooms we started taking shifts. Every other night one of us had to sleep on the couch in the living room and attend to Finn so the other one could sleep undisturbed through the night. Home-schooling a preppie, managing a 4-year-old and a baby was very challenging in the first two lockdowns. Luckily, we were both considered "essential workers" in lockdown 3-6 and could send the boys to school, kinder and day-care. But the dullness of the restrictions, combined with the stress of not being able to leave the country without losing our visa, and the uncertainty of what was going to happen next, was very demanding for all of us and admittedly not one of my best times.
Why are you going back?
We miss our family and our friends back home. Finn is two now, and nobody there knows him. Ben and Noah mix English words into every German sentence and get annoyed when we don't understand their creations. Patrick wants to finish his specialist training in Switzerland to become an infectious disease consultant. I would love to stay, but would prefer not to spend another winter in lockdown. Nevertheless, we know we'll miss our lives here dearly.