The Vascular Bionics Laboratory
Researcher
Group Leaders Dr Nicholas Opie and Dr Thomas Oxley
Research Overview
The Vascular Bionics Laboratory is co-headed by Dr Nicholas Opie and Dr Thomas Oxley.
We are developing the world's first minimally invasive brain machine interface that can record and stimulate neural tissue from within a blood vessel. This technology, the Stentrode, has the potential to return mobility and independence to people with paralysis by enabiling direct brain control of computers, wheelchairs and prosthetic limbs. By utilising blood vessels as a conduit to access the brain, we have mitigated risks associated with open-brain surgery.
We recently demonstrated proof-of-concept of our technology, and have shown the device is able to record high-fidelity, movement-related neural information for longer than six months. We are now validating the safety and efficacy of our Stentrode to translate our research into clinical application. We are aiming to conduct a first-in-human trial within the next few years.
We are continuing to enhance the Stentrode to benefit people with other neurological conditions. This includes development of signal processing strategies to detect and modulate epileptic seizures, design of the Stentrode to stimulate deep brain regions for supression of tremor in people with Parkinsons' and to enable highly focal stimulation for novel, minimally invasive treatment of depression and post-traumatic stress disorder.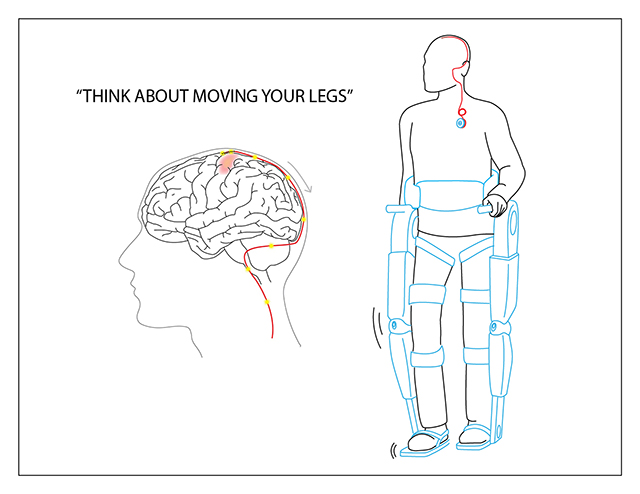 It is our goal to offer a novel treatment to patients suffering paralysis caused by spinal cord injury, stroke or traumatic limb amputation. The group maintains a focus on clinical translation and aims to demonstrate the technology in a first-in-human clinical trial at the Department of Neurology, Royal Melbourne Hospital.
Staff
Collaborators
University of Melbourne:
NeuroEngineering Laboratory, Dept. of Electrical and Electronic Engineering
Dept. of Anatomy and Neuroscience
Dept. of Chemical Engineering
Centre for Neural Engineering
Royal Melbourne Hospital:
Dept. of Neurology
Dept. of Neurosurgery
Dept. of Radiology
Melbourne Materials Institute
Florey Institute for Neuroscience and Mental Health
Defence Science Institute
Vasculab
Funding
Current Funding
NHMRC Project Grant : 'Proof of Concept for a Minimally Invasive Endovascular Brain-Machine Interface for Robotic Limb Control'
NHMRC Development Grant: 'Next Generation Brain Machine Interface'
ARC Linkage Project Grant : 'Connecting Man to Machine: Wireless Brain Machine Interface'
Previous Funding
US Defense Advanced Research Projects Agency (DARPA): 'Intravascular Neural Interface Design'
Defence Health Foundation: 'Signal Processing for Novel Brain-Machine Interface for Robotic Limb Control'
Victorian Government, Researchers in Business Scheme: 'Connector Block for a Brain Machine Interface'
Victorian Government, Dept of State Development, Business and Innovation: 'Development of a Bionic Spine'
Australian Synchotron, Medical Imaging Beamline: 'Synchotron Imaging for a Brain Machine Interface'
Brain Foundation: 'Proof of Concept for Minimally Invasive Deep Brain Stimulation'
Research Publications
Oxley TJ, Opie NL, John SE, et al. Minimally invasive endovascular stent-electrode array for high-fidelity, chronic recordings of cortical neural activity. Nat Biotechnol;34:320–7.
Opie NL, John SE, Rind GS, et al. Chronic impedance spectroscopy of an endovascular stent-electrode array. J Neural Eng 2016;13:046020.
Opie NL, van der Nagel NR, John SE, et al. Micro-CT and Histological Evaluation of a Neural Interface Implanted within a Blood Vessel. IEEE Trans Biomed Eng 2016;9294:1–1.
Liyanage KA, Steward C, Moffat BA, et al. Development and Implementation of a Corriedale Ovine Brain Atlas for Use in Atlas-Based Segmentation. PLoS One 2016;11:e0155974.
Sefcik RK, Opie NL, John SE, et al. The evolution of endovascular electroencephalography: historical perspective and future applications. Neurosurg Focus 2016;40:E7.
Research Projects
---
Faculty Research Themes
School Research Themes
---
Key Contact
Department / Centre
Unit / Centre
---