Celebrating student research at the 2022 ACMD Rapid Fire Presentation Finals
In early August, three MD Research Skills student finalists presented their research at the 2022 Aikenhead Centre for Medical Discovery (ACMD) Rapid-Fire Presentation finals.
MD4 student Rosemary Luong, with a summary of her research into acute concomitant injury and intoxication in complainants of recent sexual assault.
ACMD is Australia's first collaborative, hospital-based biomedical engineering research centre. A new facility for the Centre is currently being constructed, which will also house the St Vincent's Clinical School upon completion in 2024.
Topics showcased on the day ranged from the study of the association between acute hypercarbia and hyperkalaemia in patients undergoing cardiac surgery, to understanding the implicit bias towards Aboriginal and Torres Strait Islander patients within Australian emergency departments.
With Associate Professor Tam Nguyen (Deputy Director of Research at St Vincent's Hospital Melbourne) and Associate Professor Justin Tse (Clinical Dean) adjudicating, the three-minute presentations were insightful, and the students were very responsive to the judge's questions. With an uncomplicated slide numbered "31,118", and a flawless presentation, Rosemary Luong was awarded the 2022 ACMD Rapid Fire Presentation winner title.
Rose is a final year medical student at the Melbourne Medical School and her presentation was titled Acute concomitant injury & intoxication in complainants of recent sexual assault.
"My experience of the ACMD Rapid Fire Presentation Finals was a new, and slightly daunting, challenge. Public speaking has been a skill that I've wanted to keep improving throughout my time in medical school, and the 2022 ACMD Presentations were an excellent opportunity for this.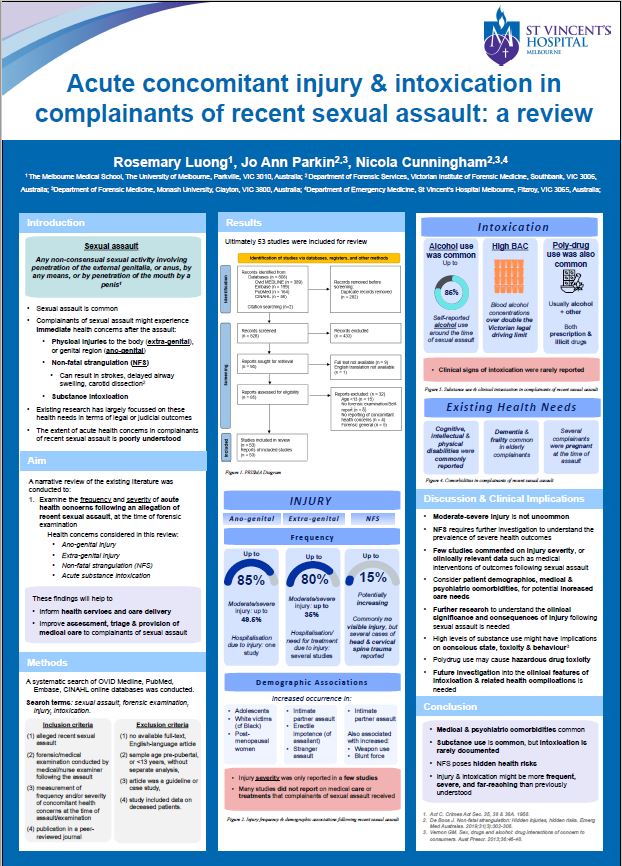 A summary of Rose's research that she presented at the competition.
"Distilling a 5000-word review into just three minutes was not an easy task! Another challenge was the sensitive nature of my research, and I did not want to trivialise, stereotype, or sensationalise the topic.
"In preparing my presentation I had to take a step back and focus on the key aims and elements of my research, while at the same time trying to add creative flair.
"Sharing my research alongside my two talented MD student colleagues, and to such respected academics and clinicians in our judges and audience, was such a valuable learning opportunity.