Student Completions
Dr Carolyn Ee, a GP and acupuncture researcher was recently awarded a PhD for her work on acupuncture for menopausal hot flushes. Carolyn has been part of the Department since she joined as an Academic Registrar in 2006, and conducted a randomised controlled trial which was published in Annals of Internal Medicine in January this year. She found that there was no benefit to needle insertion over blunt sham (fake) needling for menopausal hot flushes. Carolyn moved to Sydney in January 2016 and joined the National Institute of Complementary Medicine, Western Sydney University, as a postdoctoral research fellow, and recently took on a new role as Chair of the RACGP Integrative Medicine Working Group. She is continuing on with clinical research on acupuncture and complementary therapies, and is enjoying a sea-change on the Northern Beaches of Sydney.
Dr Jo-Anne Manski-Nankervis, a practice GP and academic was awarded her PhD in March this year. Jo-Anne's thesis entitled "Professional roles and relationships in health models of care: A study of insulin initiation in Australian general practice" explored how health professional roles and relationships influence starting insulin in general practice. She found that a nurse-led model of care was associated with stronger inter-professional relationships and better clinical outcomes for people with type 2 diabetes in general practice. Her findings have implications for the development of nursing roles and funding for diabetes care in general practice.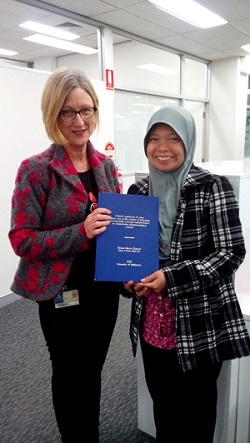 Dr Fitriana Murriya, an academic GP from Indonesia was recently awarded a Master of Primary Health Care. Fitriana's thesis entitled "Patients experience in primary care in the context of Indonesian universal coverage implementation" found that the uptake of universal care was challenging. Her study identified a mixed response to the early implementation of a gatekeeper role for primary care. Whilst patients valued the easy access to medical care in a nearby location, they expressed a lack of trust in the primary care medical practitioners and a sense of anxiety about what they perceived as limited access to specialist care. Fitriana suggested a massive promotion of general practitioners' roles, so that the public views can be modified and the aims of universal coverage can be achieved.
Dr Susan Perlen (based at Murdoch Childrens Research Institute) was recently awarded her PhD for her's thesis titled "An investigation of the implementation of Victorian smoking cessation guidelines in public antenatal care services" found that workforce, organisational and system barriers contribute to significant deficiencies in smoking cessation support for pregnant women. There needs to be a 'whole of systems' approach to thinking about improvements, with careful consideration given to the interactions between different parts of the system and the contextual environment. Key recommendations arising from the findings address six major areas where action is needed to improve the implementation of the guidelines. This includes the development and application of a 'whole of systems' approach, training, smoking cessation resources, data systems, flow of communication between GPs and public maternity hospitals, and tailored approaches to specific populations.