Bridging Melbourne and Shenzhen: mental health service and workforce development
As one of China's first special economic zones, Shenzhen has evolved from a fishing town of 30,000 into the world's second fastest-growing mega-city. The city currently has a population of over 12 million, and its GDP ranks fourth behind Shanghai, Beijing and Guangzhou.
However, Shenzhen's health-care services have long lagged far behind than those of other major Chinese cities. To meet the growing population demand, the Shenzhen government established the "Three Famous Project" in 2014 to encourage eminent medical schools, doctors and clinics from across China and the world to help build capacity with its health facilities and workforce.
In 2016, the Department of Psychiatry at Melbourne Medical School was successful in partnering Shenzhen Kangning Hospital (SKH) to become the first and only Australian funding recipient of the "Three Famous Project". Under a formal agreement with SKH which is the only public mental health service provider in Shenzhen, the Department of Psychiatry will provide psychiatric training and research, and clinical supervision to mental health professionals in Shenzhen.
In September 2017, Professors Malcolm Hopwood and Chee Ng from the Department of Psychiatry, Dr Cathy Daniels from the Department of Nursing, and Senior Sergeant Tony Richardson from North Melbourne Police Station, worked with the Shenzhen team to deliver a crisis intervention training program to over 140 participants in Shenzhen.
Professor Hopwood and Professor Ng also gave academic lectures on 'Mixed States in Bipolar Disorder' and 'Functional Recovery in Depression' respectively. Over 70 psychiatrists and clinical psychologists from across Shenzhen attended the workshop. In addition, Professor Hopwood and Professor Ng provided direct clinical supervision in various departments including in the Old Age Psychiatry, Mood Disorders, Psychology and Outpatients Departments of SKH.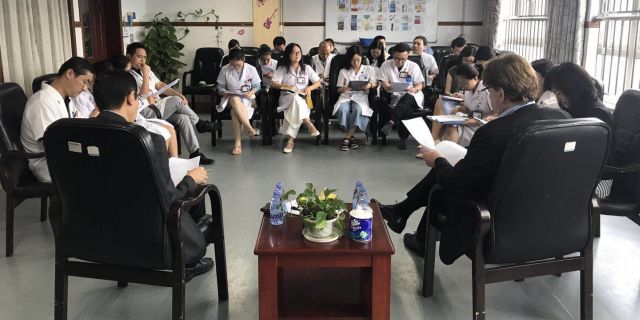 The training program, teaching and clinical supervision were well-received by the mental health clinicians across Shenzhen. Dr Jian Wang, a psychiatrist from SKH said, "The psychiatry lectures by the University of Melbourne experts were very inspiring and we have gained valuable insights in bipolar disorder and depression".
According to Dr Rong Han, deputy director of SKH, "The clinical supervision by from Professor Hopwood and Professor Ng based on real-world experience was very useful and highly applicable to our clinical work".
Dr Cathy Daniel and Senior Sergeant Tony Richardson conducted the Crisis Intervention to a range of psychiatrists, community mental health professionals, and police officers from across China. Professor Hu Chiyi, deputy director of SKH remarked that "This training provided an excellent platform for both mental health workforce and police officers to talk and work together to deal with psychiatric crises. Through this collaboration with University of Melbourne we can provide better mental health services to the people in Shenzhen".