Alpine Medicine at Falls Creek
Minus 2 degrees and falling snow added an exciting element to the learning environment for 35 Medical Students on the weekend of the 6th and 7th August. Hosted by the GV Regional Training Hub in partnership with the Outlook Rural Health Club, the Alpine Showcase was designed for aspiring rural doctors, and showcased the varied and fast paced medical careers that are on offer throughout the region.
Generous local Emergency Medicine Specialists and Rural Generalists were on hand to guide students through hands-on sessions with topics such as trauma, analgesia, concussion and fractures – a common occurrence in the Alpine snowfields – proving very popular. The Rural Doctors shared their own training journeys with the students, providing pathway guidance and describing what their work life and home life look like now.
A tour of the Falls Creek Medical Clinic was a highlight of the trip for students, as well as a fantastic demonstration by the Ski Patrol team, providing insight into a patients journey from injury to emergency treatment.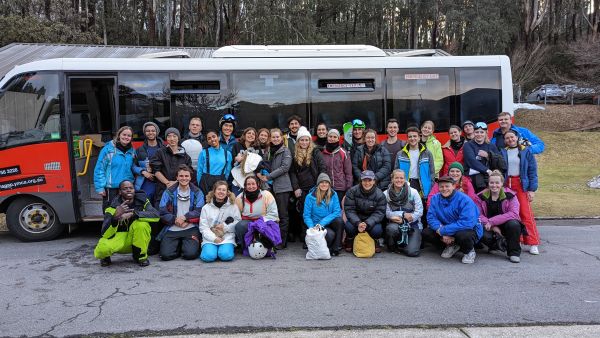 The GV Regional Training Hub Manager Shane Boyer says "the support and guidance shown by these leading clinicians demonstrates the strong learning and development culture that exists in Rural Medicine, particularly in the Hume region, and the varied roles that Rural Generalism and General Practice play in regional communities. By nurturing and inspiring the next generation of regional practitioners we work to support the development of a strong rural medical workforce."
A big thanks to:
Dr De Witt Oosthuizen, Dr Doug Devereux, Dr Shannon Elliot, Dr Sean Warfe, Dr Lauren Cusson, Dr Laura Zagorski, Dr Risdon Weatherall, the team at Falls Creek and Mount Beauty Medical Centre, Falls Creek Ski Patrol team and the Outlook Rural Health Club.
Based at the University of Melbourne Department of Rural Health, The GV Regional Training Hub works to support regional medical training throughout the Wangaratta, Shepparton and Echuca regions. They provide pathway and career guidance, and collaborate with industry to develop initiatives that support training development, workforce recruitment and retention.
---
Goulburn Valley Regional Training Hub
The Goulburn Valley Regional Training Hub is a Commonwealth Funded program managed by the Department of Rural Health, University of Melbourne.
Outlook
Outlook is the Rural Health Club for the University of Melbourne, forming part of a network of 28 University Rural Health Clubs around the country that make up the National Rural Health Student Network (NRHSN). Outlook is a truly multidisciplinary club, representing the interests of health students of all disciplines from the University of Melbourne that have an interest, or aspirations for a career in rural, remote or Indigenous health.
Outlook is an entirely student run organisation and works to deliver events, initiatives and activities that expose our members to the many rewards and challenges of rural healthcare and Indigenous healthcare. We work to foster a community of students passionate about delivering healthcare to underserved regions of Australia, and promote rural, remote and Indigenous healthcare as a viable, challenging and extremely rewarding career path.
More Information
Alana Lee