Surgical Students Society of Melbourne SSSM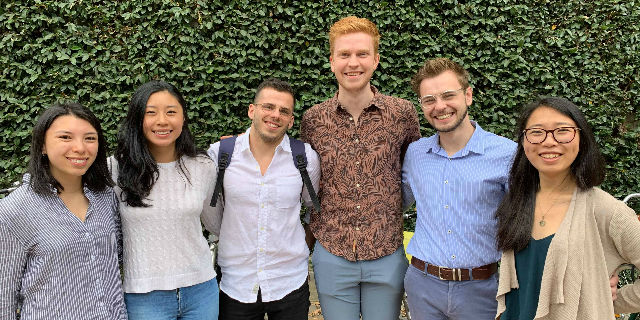 The Surgical Students' Society of Melbourne (SSSM) was founded in 2009 by medical students eager to share their passion for surgery. A decade on, SSSM has grown into the peak surgical interest group at the University of Melbourne, representing over 1,400 students across metropolitan, regional and rural Victoria. Our society continues to work tirelessly to provide our students with high-quality surgical education, as well as a platform to enable communication between students, surgeons and other experts in the field.
The missions of our society broadly relates to three domains:
Education – we aim to maximise access to quality surgical education for all Melbourne Medical School students, including a unique Rotating Lecture Series, practical workshops and social events

Research – the society aims to promote research amongst medical students in order to foster a passion for surgical academia from the very start of their medical journey

Advocacy – the society strives to represent and advocate for all of our students, to ensure that their surgical interests, skills and education are wholly fulfilled
SSSM continually strives to achieve these missions in order to fulfil our vision of inspiring the next generation of world-class surgeons.
As I look back at our last 10 years, I am humbled by the achievements and milestones that were attained by our SSSM predecessors. To name a few of highlights of SSSM over the years:
The SSSM Charity Calendar which sells out every year at the Royal Melbourne Hospital, with all proceeds going towards enabling surgeons to provide surgical aid and education overseas
Surgical workshops at all seven clinical sites around Melbourne and regional/rural Victoria, including: Suturing, Plastering, Laparoscopy, Chest drain insertion and Trauma management to name a few
SSSM's Rotating Lecture Series, a monthly lecture given by a renowned surgeon covering an area of surgery that is exciting and quite literally cutting-edge
Our annual Women in Surgery night, which provides a platform for female students, trainees and seniors at all stages of surgical training to come together and empower one another
The Surgical Careers Night, which brings together surgeons from all different specialties of surgery to inspire and guide our students into their future
SSSM's involvement in national and international conferences such as MD Student Conference, Global Health Conference and the International Surgical Students Conference, holding surgical workshops and educational events
It is my great pleasure to introduce the 2019 SSSM Executive Committee who work behind the scenes to make this all possible!
President – Jacqueline Nguyen Khuong
Vice President Internal – Georgia Bridgeman
Vice President External – Peter Gearing
Secretary – Elliot Gin
Treasurer – Cindy Jiao
Education Officer – Casey Fung
Diversity Officer – Luke Bromley
Promotions Officer – Karin Gunatilake
Royal Melbourne Hospital Chair – Peter Gearing
St Vincent's Hospital Chair – Cindy Jiao
Austin Hospital Chair – Phillip Qian
Epworth Hospital Chair – Georgia Bridgeman
Rural Hospitals Chair – Jenny Pham
Western Hospital Chair – Morgan Berman
Northern Hospital Chair – Elliot Gin
…And many more sub-committee members who are the back-bone of our society!
None of this would be possible without the support of our amazing sponsors such as MIPS, Johnson & Johnson and the Department of Surgery at the University of Melbourne. To the Department of Surgery, I want to thank you for your ongoing support and belief in our goals. Your guidance and encouragement have been invaluable over the past years in allowing SSSM to grow as a society and enabling our medical students to continue pursuing their surgical interests. The sky is the limit for where we can go from here!
Jacqueline Nguyen Khuong
President, Surgical Students' Society of Melbourne
Find us on Facebook at SSSMelbourne or on our Website at www.sssmelbourne.com