ACADI - Australian Centre for Accelerating Diabetes Innovations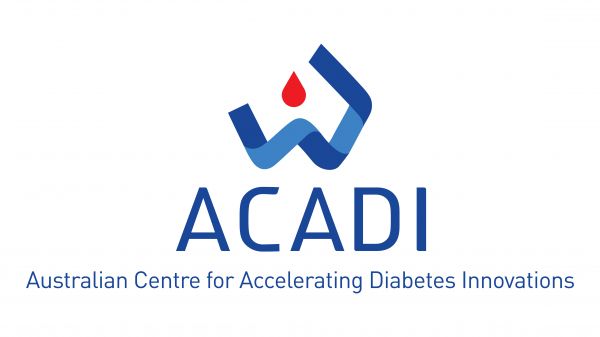 Transforming the field of diabetes and its complications with innovations for Indigenous and non-Indigenous Australians.
The Australian Centre for Accelerating Diabetes Innovations Research Centre (ACADI) was established through MRFF funding from the Australian Government's Targeted Translation Research Accelerator (TTRA) program, delivered by MTPConnect.
ACADI is a virtual collaborative diabetes centre uniting over 70 partners and supporters spanning all Australian States and Territories and 4 international sites. Led by Professor Elif Ekinci, Sir Edward Weary Dunlop Principal Research Fellow in Metabolic Medicine and Dame Kate Campbell Fellow at the University of Melbourne, ACADI includes Academic Partners, Advocacy Groups, Health Services and Industry Partners with a shared vision to benefit people with diabetes at each stage from diagnosis through to its devastating complications.
Our purpose is to deliver novel interventions for timely diagnosis, prevention and treatment of diabetes and its complications. Our research and development platform, national training program, and sustainable model will increase quality of life and life expectancy for all Australians living with diabetes and its complications. Furthermore, ACADI specifically addresses equity in diabetes related healthcare with targeted initiatives to ensure all Australians, regardless of their geographic location or cultural background, have equal access to innovative products and clinical trials.
Our diverse portfolio of projects aligns with our three Priority Areas:
Explore this site to learn more about ACADI.

I am delighted to welcome you to ACADI - The Australian Centre for Accelerating Diabetes Innovations Research Centre.
Globally, almost 500 million people live with diabetes with 51% more people expected by 2045. ACADI is uniquely positioned to improve the lives of millions of people in Australia and overseas, and to set Australia as a global leader in innovations for diabetes.
I am fortunate to be surrounded by an incredible team to drive change. Deputy Director of ACADI, Professor David O'Neal, will support our translational research and training activities. Furthermore, our Priority and Platform Leads are world-class clinician researchers that have worked collaboratively for many years and will provide strong inclusive leadership for ACADI initiatives. Our research portfolio will be supported by our Advisory Groups including an Independent Scientific and Commercialisation Advisory, International Advisory, Indigenous Advisory and Consumer Advisory groups.
We are united in our passion to transform the lives of people with diabetes and committed to ensuring access and equity in healthcare services, innovative treatment, and novel interventions. We are focused on building sustainable capacity with the support and development of emerging leaders in the diabetes field. Our comprehensive training program, led by Associate Professor Sarah Glastras, will support multiple PhD students and early career researchers (ECRs). To ensure cultural diversity, we have specifically earmarked PhD stipends and ECR awards for Indigenous Australians.
We anticipate ACADI will deliver sustained outcomes including:
Increased human capital skilled in translational research, accessible to Australian industry and health services
Increased access to cutting-edge interventions for people with diabetes
New and enhanced partnerships between industry, academia and health services generating broader economic outcomes, including education and training exports
Improved experience, care, and safety for people with diabetes and increased effectiveness and efficiency of health service delivery
We are excited to lead this change in diabetes and its complications and we warmly welcome you to explore our ACADI initiatives and projects within this website.
Professor Elif Ekinci
ACADI Centre Director
ACADI is a new MRFF Targeted Translation Research Accelerator focused on delivering novel interventions in the diagnosis, prevention and treatment of diabetes and its complications.
ACADI currently includes 18 projects, aligned with our three priority areas. Our project leads are Australia-based to maximise local benefits; however, our valuable international collaborators will assist with conducting multicentre studies.
ACADI platforms provide specialist services for project teams utilising consistent, proven approaches to accelerate projects to key milestones and towards translational outcomes.
These platforms will provide diabetes-specific expertise and include evaluation and implementation science, commercialisation advisory, consumer and end-user engagement and clinical trials connected to our national network.
Our Platform Leads include:
Professor Philip Clarke, University of Melbourne and University of Oxford
Dr An Duy Tran, University of Melbourne
Health Economics Platform co-Leads
Professor Victoria Palmer, University of Melbourne
Co-Design Platform Lead
Professor Leonid Churilov, University of Melbourne
Biostatistics Platform Lead
Dr Christel Hendrieckx, Deakin University
Dr Elizabeth Holmes-Truscott, Deakin University
Behavioural Platform co-Leads
Professor Jill Francis, University of Melbourne
Implementation Science Platform Lead
Associate Professor Wendy Davis, University of Western Australia
Epidemiology Platform Lead
ACADI Training Program
ACADI's Training Program will train current and future leaders in innovation and provide participants with critical skills in commercialisation, clinical trial design, and translation, combined with diabetes knowledge from consumer, clinical and regulatory perspectives. ACADI graduates will form a national network of innovators, maintaining connections via ACADI alumni which will offer opportunities for ongoing knowledge development.
About
ACADI partners participating in the Training Program will be networked with ACADI researchers and platforms, clinicians, healthcare professionals, clinical facilities, and patients to deliver multi-site trials across diverse communities.
Our Training Program will benefit from ACADI's innovators from industry, research, health services and community developing creative solutions by addressing the complex challenges associated with healthcare innovation and translation. Our initiatives include:
1. Building translational research capability and expertise. ACADI will support new PhD and early career researcher (ECR) Fellowship opportunities. Aboriginal and Torres Strait Islander skills development and training will be supported through reserving PhD and ECR opportunities. The training program will cover commercialisation and research translation. Regular seminars, project presentations, and guest speakers will facilitate knowledge and idea sharing.
2. Professional development activities for clinicians, researchers, and students.
3. Mentoring and masterclasses will be provided to ensure research projects are end-user focused and have commercial potential to build confident, knowledgeable and well-networked future leaders in diabetes.
ACADI Grants
ACADI Mentoring Program
Navigating through the early stages of a career in research can be a challenge. The ACADI Mentoring Program is designed to support PhD candidates and early career researchers in the field of diabetes work together towards their goals and amplify their impact. As a national virtual collaborative research centre, the ACADI mentoring program will facilitate the sharing of knowledge, career, and leadership guidance through purposeful mentoring relationships.
ACADI HealthTech Innovation Challenge
ACADI Training Program Team
Training Lead
Associate Professor Sarah Glastras (endocrinologist), is an experienced early to mid-career clinician scientist, who will oversee the program together with a team of training advisors from each state and territory
ACADI Training Program Advisory Group
NSW: Professor Alicia Jenkins
VIC: Associate Professor Jia-Yee Lee & Dr Rajna Ogrin & Dr Ruth Park-Jones
QLD: Dr Anish Menon & Dr Steven James
ACT: Professor Chris Nolan
WA: Professor Tim Davis
SA: Professor Robert Fitridge
NT: Professor Alan Cass
TAS: Professor John Burgess
ACADI Training Program Manager
Lindsay Boardman-Bradley
For further information or to discuss a project you would like to partner with ACADI on please contact:
Follow ACADI on:
Twitter: @ACADI_Centre
LinkedIn: https://www.linkedin.com/company/acadi-centre